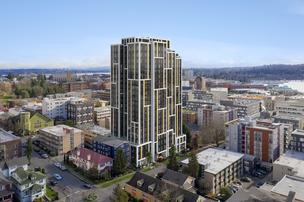 Greystar has closed on the acquisition of five parcels in Seattle's University District, clearing the way for construction of a 21-story student housing tower.
Four older properties with a total of about two dozen rental units will be replaced by Lakeview Student Residences, a 226-unit project with 597 bedrooms. Demolition prep work will begin next week, said Aaron Keeler, Greystar senior director of development. The fifth, a landmarked property, will be preserved.
Located at 4126 N.E. 12th St., Lakeview will cost around $145 million to develop, Keeler said.
It is the latest in a crop of high-rise proposals in the neighborhood. A block to the north is where Landmark Properties has begun early construction work on a 1,550-bed, two-tower project.
The city rezoned the U District three years ago in anticipation of the 2021 opening of the U District light rail station, which is a block from the Greystar and Landmark sites.
Across the region, multifamily development continues apace despite the Covid-19 pandemic. The Lakeview tower is scheduled to be completed in 2022.
"Our thinking is Covid will no longer be the issue it is today," Keeler said.
Colliers International started assembling the site about 18 months ago. Colliers brokers Dan Chhan, Tim McKay, and Sam Wayne also assembled the Landmark site; those parcels sold for a total of $39 million.
Greystar paid a total of $17 million for the five parcels. The landmarked property that will be preserved is the circa-1924 Villa Camini Apartments, at 1205 N.E. 42nd St. Saving the building allows Greystar to transfer the property's development rights and add four more stories to the Lakeview tower, Keeler said.
Student housing developers are building amenity-rich projects. Landmark Properties' project, for instance, will have rooftop pools and hot tubs, a rock-climbing wall and "outdoor theater-like entertainment," the company said.
Greystar's tower will have a rock-climbing wall, but its rooftop will have study areas, Keeler said.
With its location near the light rail station and the Burke-Gilman Trail, the tower will have no resident parking. With parking stalls costing around $75,000 each, that's a big savings.
Seattle architecture firm Weber Thompson designed Lakeview Student Residences, and Exxel Pacific of Bellingham and Seattle is the general contractor.
Charleston, South Carolina-based Greystar is an international company that typically does its own general contracting. Keeler said it's growing its general contracting team in Seattle.
Lakeview is Greystar's second under-construction project in this part of Seattle. This spring it began building a high-end apartment development on a two-block site west of University Village.